Belonging is…
patting a dog
a hug from my son
feeling accepted
These are some of the things people — adults and a child — wrote on the Pop-Up Story Catcher's portable blackboard at her inaugural event Friday evening at Bemac, Queensland's multicultural arts centre. Lots of female musicians and some lucky males came to network and chat over a glass of champagne in a celebration of International Women's Day. The evening finished with an amazing SingOut Sista! concert by female performers of diverse backgrounds.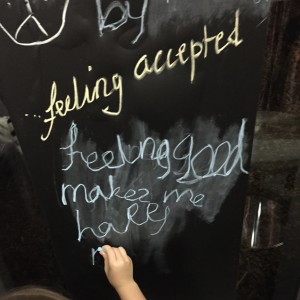 Through it all the Pop-Up Story Catcher was there with her notebook and her recorder, listening to your stories of belonging and not belonging.
I wasn't sure what to expect for my first big event. Would Miss Kiki be a  flop? Would people walk around my little tables and inspirational artwork pretending I wasn't there? All kinds of insecurities played through me ahead of the evening.
Luckily I had my back up bee-bop girl and my power retro skirt. Two necessities for every Writer Out Of Residence!
I didn't need to worry. I was warmly welcomed by all the Bemac staff who made me feel like I'd always belonged in the big front foyer where people gather before concerts. And musicians and audience members were genuinely curious about what I was doing. "A Pop-Up Story Catcher? What a great idea!"
Is listening the closest we come to suffering as Ben Okri has said?
Listening is about empathy. It's about becoming that other person just for a few moments, while the noise of the world around you ceases. And listening is about belonging: giving and receiving belonging.
People told me stories of the daily struggle against racism and helping the homeless, of hope and inspiration. And I was honoured that they trusted me to gather their stories and share them with you.
I'm still updating the website but soon there will be section called Your Stories.
Check out the truly multicultural Bemac here and watch for me, the Pop-Up Story Catcher at the Anywhere Festival this May.