The funny thing about writing a post about not writing every day is that I woke up this morning filled with new ideas and an urge to write. Something must have clicked in my brain overnight while I slept under the duvet and bedspread on my mattress on the floor. But after I stepped over the geriatric dog and made my tea and sent the emails I was supposed to send for the restoration/renovation of The Turreted Money Pit, I had no time left to write.
Ever hopeful, I walk the kids and Kibo the geriatric dog to school (in 5 min. How cool is that?) and then Kibo and I head home to write. Shorty after I indulge in one banana with a knife tip of peanut butter stuck on each bite, I head up the stairs to my very windowed study and just as I click on my computer two vehicles with freshly caffeinated drivers pull up outside like they're here for a heist. One looks like it's parked IN the back end of my car.
Oh no, I'm about to get Bruced and Bobbed.
I have to tell you about my new friends Bruce and Bob. They're amazing but every time they leave I feel like my head has been run over by a steam engine, or one of those roller vehicles that smoothes down the asphalt.
I've told them I write about everything in my life and Bob said he was ok with that. Bruce just smiled.
Bruce is an architectural historian. He's been restoring old churches and homes for decades and was introduced to us by a mutual friend. I'm pretty sure Bruce has taken pity on us and is helping us out partly so we don't get scammed as they say here in Toronto (which is pronounced Tyrano, by the locals). Bruce is the most amazing find. Every time he comes I feel I should pull out my reporter's notebook and start writing because I learn things about house structure and underpinnings (hence the exploding head) and something new or different about the world: yesterday I found out that his wife is related to the real person that Lucy Maud Montgomery's Anne Shirley is based on. I didn't even know there was a real person.
Bob is The Plumber Extraordinaire. He's done other things but right now he's plumbing and he's been over a few times already because he's a friend of Bruce's so he's helping us out too. The only tiny problem is his secretary (he's old school) still hasn't sent a bill and I'm starting to worry. Don't plumbers make more than CEOs? But Bob says not to worry, he doesn't do it for the money. I think he wants to keep busy and stay out of someone's hair. After he showed me one of the pipes he removed though, I'd never plumb for less than 6 figures. It was completely blocked with decades of rotted food and grease and whatever else people put down kitchen sinksAnd now it's sitting in my basement and I imagine it seeping all over the stinky-with-cat-pee concrete floor. I'll show you a photo. Yuck.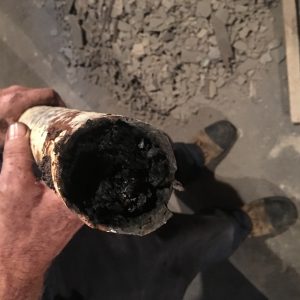 But right now I've got get de-Bruced and de-Bobbed because I've got a lunch date with my pal Paul. This is all part of me taking care of myself and making time to 1) meet up with friends, and 2) eat healthily. I've known Paul since university, though I don't think either of us have pinned down the exact moment (1980s aerobics in spandex?). Paul has booked us a table at the coolest place in Bloor West Village: it's vegan, there is no menu and there are no prices for food. They ask you about your dietary requirements and then you get the surprise dishes of the day, eat as much as you want, and pay the price you want.
It's exquisite. One of the chefs comes and talks with us before our meal and he talks with everyone else there too. We have three courses before we are stuffed and then we still order the dessert (Ok I ordered dessert.). I'd like to point out here that Paul is probably over 6 feet tall and I am, well, even with my biggest boots still stretching to make 5'4 and I ate exactly the same amount as him.
"I feel like a real person again," I tell Paul as I dribble the fresh lentil soup down my chin. The restaurant, which is such an understatement for this place, has two of its own gardens out back and I think there's one chef in the open kitchen in the middle, while another kneads bread.
Even after, as I waddle out into the pelting rain, I feel cool for just being at Awai and escaping my Renovation Rescue and my Children and my Geriatric Dog.
When I get back to The Turreted Money Pit after school with the girls, Bruce and Bob's vehicles are still there and I have an urge to call out Honey I'm home!  but I don't know them well enough yet.
"Hey you should come see this," Bruce says.
They've pulled out kitchen number two — which really wasn't much of a kitchen — and Bob has exterminated the plumbing.
"I knew I shouldn't leave you two alone," I say laughing at the gaping holes and eyeing up the tiles to see what I can demolish.
If you live in Toronto you have no excuse, but if you can't get to AWAI, just read and drool here Awai. Bruce and Bob are real people and real nice and I couldn't do this real renovation without them, but I might have changed their names to protect their privacy.