You never know how a free community event will turn out so Wild Readings was thrilled to have a full house at Mu'ooz Eritrean Restaurant for our first session this year. Yep, while everyone's been feasting and holidaying, we've been working hard to bring you some amazing voices. Among the audience was award-winning travel writer, editor and journalist Christine Retschlag who blogs under the name of The Global Goddess. She came away inspired by Wild Readings:
"I didn't leave the house expecting to find a story, but in this salacious setting how could I not? Not only am I inspired by the passion and prose of my fellow artists, but Mu'ooz itself is a not-for-profit social enterprise, established by Eritrean Refugee Women, which assists women arriving in Brisbane from many parts of Africa."
And even though Christine must have polished off this piece in the middle of the night while the rest of us slept, she has accurately captured part of the reason we started this community reading series:
"I'm at Mu'ooz Eritrean Restaurant in West End, surrounded by fellow writers, artists, poets, singers and daydream believers, attending Wild Readings. I blew in here a little like the white flowers, an invitation from a friend to join this underground movement of creatives, who gather on the third Tuesday of every month. It is here that they soak up the collective juices, which are threatened with drought when you are alone for too long in a big city, stalked by the shadows of conformity."
Read the rest of her review on The Global Goddess. Christine's writing is rich and delicious, like a double-tiered chocolate cake after a diet.
And she's right, we were inspired. Even more than inspired, I learned. Simply by sitting and listening I learned new ways to deliver my written work, and I learned something crucial and profound about the authenticity of story that I'm still digesting.
It was a diverse evening: thoughtful artwork by an art therapist in training and storytelling with a fiddle. We learned about a Basque writer and philosopher and saw the world through the eyes of an elephant.
Here are our four writers: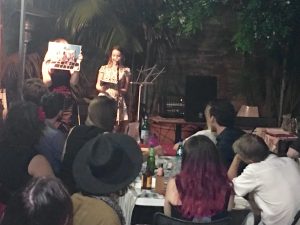 Alana (Lani) Bosgra uses art to communicate thought, emotions and humour; to promote awareness around mental health; and to tell stories. She has travelled Australia delivering workshops and speaking about art and mental health to kids in schools, and in 2015, spent six months writing and running workshops with adults as part of a Work for the Dole project. Lani has a Bachelor of Social Science (in human services and human behaviour) and is now a student at UQ about to begin her Masters of Mental Health/Art Therapy. Lani believes that art serves a purpose: to bring peace, calm and understanding to what can be a tumultuous life.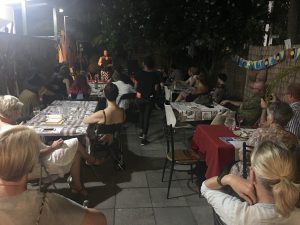 T.M. (Tina Marie) Clark was born in Zimbabwe and combines her passion for storytelling, different cultures, and wildlife with her love for Africa and the wilder places of the world. Her book My Brother-But-One was nominated for a Queensland Literary People's Choice Award in 2014. Her next book, Shooting Butterflies was published in 2014, followed by Tears Of The Cheetah in 2015. At the same time Tina Marie published her first novella An Avoidable Orphan. Tina Marie runs the Children and Young Adult Writer's and Illustrator's Conference in Brisbane, to help others on their journey towards publication. She read from her new book, Child Of Africa, which will be released in December.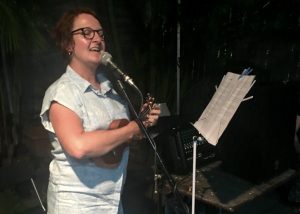 Annie Morris is a community artist, teacher, and performing artist. She has been co-developing an Arts program for newly-arrived refugees and migrants called HeART & Mind through TAFE QLD. Her cabaret, Gritty Pearls, co-written with Barbara Fordham, was a hit at the 2015 Anywhere Festival. Annie will be appearing at the Anywhere Festival again this year with The Trespassers. Annie read and sang an original story from tropical North Queensland, where she lived on the beach front for several years.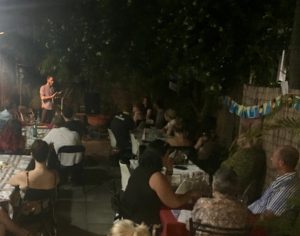 Jerath Head is assistant editor at Griffith Review, and co-editor of the upcoming Griffith Review 56: Millennials Strike Back. He's also an occasional research assistant and content contributor for Griffith University's Policy Innovation Hub. Jerath's writing has been published in Kill Your Darlings and New Philosopher, and numerous arts and culture publications in Australia and Ireland. He read from his latest piece in Kill Your Darlings.
Wild Readings is Abdul, Lisa, Nerissa, Simon, and me Kirsten (who promises to work on her photography), but most of all it's you — the writers, the listeners, the artists and the community. If you'd like to read or participate just contact us at the link above.
Wild Readings thanks Mu'ooz Eritrean Restaurant for their support and delicious food, and Jonathan Sri Councillor for The Gabba in Brisbane for the loan of the amplifier, speakers and microphone.
Wild Readings: for the writer in everyone